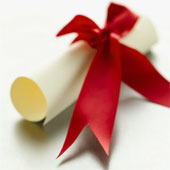 Certified translation
is translation
performed by qualified translator and certified by Notary
. Certified translations are required by formal governmental agencies, state bodies, immigration authorities, non-governmental organizations.
Term of certified translation in Ukraine can be described as simple formula:
Translator's affidavit of accuracy
+
corporate seal of translation agency
+
Notarial certificaton of translator's signature
. Such translation attached to the initial original document or to its copy is a recognized completed legal document which can be used in any administrative legal instances, state or governmental bodies of the country where certified translation has been performed.
We, at Ukraine-Translation.com
offer high quality services for certified translation in Ukraine. Whether it is foreign legal document intended for use in Ukraine or Ukrainian document that shall be used elsewhere abroad, you get a professional approved translation that will be 100% accepted. In addition to certified/notarized translation services we provide exclusive services of obtaining civil records, police clearance certificates amd other documents from Ukraine. Legal consultations are available.
The list of documents we translate and certify
:
---
Rates for professional certified translation from/to Ukrainian:
$ 40 per document
.

Click here to complete our
Request Information form
.
Ukraine Translation
representative will contact you shortly. Additional contact options are available on our
Contact Us
page.
---
Other types of documents related to certified translation category
:
Academic records, Adoption documents, Customs' and Immigration documents, Financial/Police/Medical records, Legal contracts, Real Estate deeds and leases, wills.