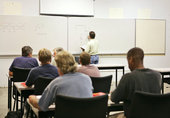 At Ukraine-Translation.com, we perform extensive Ukrainian educational translation services pertaining to
general education
,
notices
,
compliance materials
etc., for persons speaking the Ukrainian language. We translate academic documents from most of the major source languages into Ukrainian. We translate a wide variety of documents ranging from
guidance papers
,
federal regulation papers
,
section 504 documents
as well as many others.
Our services
We provide a vast array of Ukrainian educational translation services such as:
-
Online translation
-
Desktop publishing of Ukrainian language
-
Localization of websites
-
Centralization of district translation
---
Rates for professional education translation from/to Ukrainian:
$ 0.07 per word
.

Click here to complete our
Request Information form
.
Ukraine Translation
representative will contact you shortly. Additional contact options are available on our
Contact Us
page.
---
Online translation services
Our online Ukrainian educational translation services enable you to perform a wide array of tasks such as getting quotes on translation projects, submission of projects to be translated, retrieving translated documents as well as managing your billings through one centralized system. All of these services are provided through your desktop so you can access and retrieve completed Ukrainian educational translation projects from the comfort of your home.
Desktop publishing of Ukrainian language
With our desktop publishing of Ukrainian language documents you can now streamline all print projects you have in the pipeline. We understand that when it comes to Ukrainian educational translation there can be a substantial difference in the layout, format and design of the documents when translated from the source language to Ukrainian. Nevertheless, we always ensure to retain the essence, format and other structural elements of the document.
Localization of websites
Since a website plays such a critical role in reaching out to customers and spreading awareness about the brand, we help your educational website grow and branch out into Ukraine with our state of the art Ukrainian educational translation services. We understand the cultural as well as brand appeal that a website has. Hence, if you intend to launch your educational website into Ukraine, you need effective, incisive and accurate translation services. Our Ukrainian educational translation services are geared to help you truly reach out to Ukrainian people and make a difference on the Ukraine online map.
Centralization of district translation
At Ukraine-Translation.com, we have access to various Ukrainian educational translation tools such as translation memory tools as well as glossaries. The translation memory tools enable us to reuse previously translated texts, which prevents repetition of the same thing. Instead of reinventing the wheel and translating the same phrase repeatedly, we use the translation memory tool to perform the translation for the same term only once. Our glossary tools allow us access to some of the common words used in Ukrainian educational translation as well as complex technical jargons used in the educational segment. This enables us to infuse consistency as well as appropriate content in our translation.
Continual availability
Our Ukrainian educational translation experts are always available on a 24x7 basis. With our online system, you can instantly receive quotes, submit projects for translation as well as receive completed translated documents, thereby making the process easy and seamless. Contact us today to see how we can assist you!