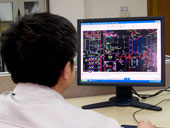 Most software companies tend to operate within stringent deadlines and tight budgets, especially the smaller startup companies. When it comes to our Ukrainian IT translation we at Ukraine-Translation.com ensure that our translation is also as per the deadline specified, while always maintaining the high quality of the translated document output. We partner and collaborate with various IT and software clients to infuse our translation processes into their workflows.
---
Rates for professional IT translation from/to Ukrainian:
$ 0.07 per word
.

Click here to complete our
Request Information form
.
Ukraine Translation
representative will contact you shortly. Additional contact options are available on our
Contact Us
page.
---
Subject knowledge
Any translation assignment needs to first evaluate the translatorís capability and service output. When it comes to Ukrainian IT translation proper subject matter knowledge and expertise is mandatory. Since the IT documents are usually filled with technical terminologies and jargons, their proper translation into applicable Ukrainian terminology is essential to retain the essence of the document. At Ukraine-Translation.com, all of our Ukrainian IT translation experts are well-versed with the IT industry as most of them have been an active part of the software industry before. Hence, they know the format and nature of writing as well as translating such documents into Ukrainian.
Skill sets needed
All of our Ukrainian IT translation experts possess in-depth expertise in a wide selection of skills such as RC files, e-learning, CAD drawings, diagrams, configuration guides, installer guides, operator manuals, online help, reference guides, product manuals, safety and research documentation, software strings, software GUI, documentation pertaining to technical subjects, user interface as well as user guides, website content, whitepapers, formatted content of XML and much more. Thus, as you can see, our Ukrainian IT translation experts have thorough expertise in a variety of skills, which provides a much-needed value-add to the quality of the translation.
Unique requirements
At Ukraine-Translation.com, we understand that when it comes to Ukrainian IT translation there are specific and unique requirements required of the translators. Since most of our clients approach us with various content types as well as formats of IT documents, we need to be always prepared to handle and successfully translate any kind of document irrespective of the format. All of our Ukrainian IT translation providers have expertise in handling content formats like Javascript, Perl, JSP, ASP.NET, properties files, C++, C#, resx files, rc files, VB script, PHP, XML, Visual Basic.NET, XSLT, Xquery, XLIFF files and many others.
Because we understand
The requirements of the IT industry are very different when it comes to translation. Since this industry has so many different formats and types of content in the realm of IT documents, you need a Ukrainian IT translation who understands all these formats and content types and can deliver appropriate translated files in the corresponding format as applicable in the Ukraine. In addition, all of our translators are native speakers of Ukrainian, which means that all document materials are translated perfectly and accurately without any inconsistencies whatsoever. We have access to Ukrainian IT translation glossaries as well as translation memory tools, which help us to translate documents in the most effective manner. Thus, you get the best possible quality translated output at all times.