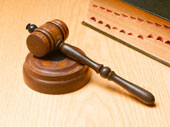 Legal translation
is a dicey game and requires plenty of skill and expertise. Not only must the translator have thorough knowledge of the language itself but also the legal jargons and regulations. At Ukraine-Translation.com, our expert Ukrainian legal translation service personnel churn out
accurate
and
high quality
legal documents.
Proper layout
As an expert Ukrainian legal translation provider, we understand that different countries have their own structure and layout when it comes to legal documents. For example, English legal documents would have a very different structure compared to a French or Ukrainian legal document. Understanding the layout and structure is important because it sets the fundamental tone for the rest of the Ukrainian legal translation process. Since every kind of legal document will have its own separate structure and therefore content, it is important to know what type of content is contained in each framework to do justice to the final translated document.
---
Rates for professional Legal translation from/to Ukrainian:
$ 0.07 per word
.

Click here to complete our
Request Information form
.
Ukraine Translation
representative will contact you shortly. Additional contact options are available on our
Contact Us
page.
---
Complex jargons
When it comes to Ukrainian legal translation one thing, which needs special mention is the complexity of jargons and terminology. Legal documents contain numerous clauses, articles, acts etc., which each have a a separate manner of writing and depending on the destination country's legal document format, will have its own structure as well. At Ukraine-Translation.com, we are thoroughly familiar with the various legal jargons and terminologies used and always strive to provide correct and factual translation, which perfectly resonates with the original source document. There is no room for error when it comes to Ukrainian legal translation because even a small change in word or context can change the entire meaning of the particular article, clause or regulation!
Native speakers
It is very important when it comes to Ukrainian legal translation that you engage native speakers of Ukrainian. This is where we at Ukraine-Translation.com stand apart from so many other service providers. All of our legal translators are native speakers of Ukrainian. Thus, there is a consistency and flow in the translation. This is something, which you will not obtain from someone who is not a native Ukrainian speaker.
Areas of expertise
Our Ukrainian legal translation company handles various segments pertaining to legal translation ranging from insurance, international, contract, taxation, maritime, real estate, business as well as corporate, criminal, commercial as well as various other offshoots of legal translation segments.
Specializations
All of our Ukrainian legal translation experts specialize in various segments such as legal and government ruling reports, confidentiality agreements, contract translations, depositions, witness and court transcripts, litigation, credit letters, laws and regulations, legal statements and certifications, trademark as well as patent filings, translation of licenses, legal disclaimers, affidavits, translation of registration documents, expert reports, technical documents, which support various litigation efforts and much more.
Legal terminology
We are the leading provider of Ukrainian legal translation services and as a result of our in-depth expertise we have our very own set of legal terminologies, which we use to bring out the very best legal translation documents. This speeds up turnaround times and delivery as well as saves money for the client because the same translated text is only counted once.