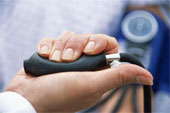 We at Ukraine-Translation.com have expert Ukrainian
medical translation services
in various medical segments ranging from
veterinary medicine
to
anesthesia
as well as
pharmaceutical
translations. Our team always ensures to take proper care to not just translate but also proofread as well as edit all the medical documents. Thus, every translated piece is as per the highest standards of the translation industry.
Native speakers
What sets us apart from the scores of other Ukrainian medical translation experts is that our team comprises native speakers of the Ukrainian language. All of our professional translators possess certifications, M.D. degrees, advanced degrees as well as accreditations in this profession. We understand that your medical translation cannot be handed over to a provider, which is only proficient in a few languages, which is why we at Ukraine-Translation.com are well-versed with over 40 different languages. In addition, our Ukrainian medical translation translators have all the industry expertise needed to provide you with the most accurate and thorough medical translated documents possible.
---
Rates for professional Medical translation from/to Ukrainian:
$ 0.07 per word
.

Click here to complete our
Request Information form
.
Ukraine Translation
representative will contact you shortly. Additional contact options are available on our
Contact Us
page.
---
Core competencies
At Ukraine-Translation.com, we are proficient with various areas within the Ukrainian medical translation industry. These include:
-
Medical documents pertaining to health institutions
: These Ukrainian medical translation services comprise accurate and expert translation of instruction manuals pertaining to health, regulatory documents, patent applications, manuals, insurance claims, hospital discharge documents, medical reports and charts, manuscripts, instruction manuals for medical equipment, software pertaining to the medical segment, patient history and information records, white papers, scientific papers etc.
-
Documents about instruments, medical equipments, tools etc
: Our Ukrainian medical translation experts translate various kinds of documents such as specification and product description sheets, catalogs, brochures, online as well as CD marketing materials, offline materials and much more. All of our teams bring in in-depth expertise pertaining to translation of text about anesthesia units, ambulatory aids, autotransfusion units, arthroscopic equipments, cardiac output units, battery chargers, diagnostic equipment, infusion pumps and many other kinds of medical tools and equipments.
-
Pharmaceutical documents
: At Ukraine-Translation.com, we also translate various documents related to the pharmaceutical segment. These include translation of marketing materials, specification and product sheets pertaining to drugs of anti-contraceptive nature, antibodies, anti-viral drugs, anti-infective, autonomic nervous system drugs and many others. Chemotherapy drugs, coating systems, drugs for the central nervous system etc. are some of the subjects in the medical documents we translate.
-
Corporate literature
: These include Ukrainian medical translation of various documents like catalogs, brochures, specifications sheets, marketing materials, annual reports, trademark information, SEC reports, articles pertaining to bylaws, incorporation as well as various other kinds of corporate documents about pharmaceutical instruments, dental and medical instruments etc.
Medical terms
The thing about Ukrainian medical translation is that all medical terms need to be perfectly translated into the proper Ukrainian terms. Thus, all of our expert Ukrainian medical translation personnel have access to various terms specific to the medical industry, translation dictionaries, memories etc. Thus, we always ensure that all medical translations provided are consistent and accurate, irrespective of how large a project is.