Documents retrieval in Ukraine
Expedite retrieval of birth certificates, marriage certificates, divorce decrees and certificates and death certificates from Ukrainian Registry offices (ZAGS's) and district courts in any Ukrainian city.

To get your quote for a civil record retrieval contact us at info@ukraine-translation.com indicating the date and place of birth/marriage/divorce and applicant's full name.


Civil documents obtainment is the key specialization of our company. All civil documents retrieval orders are treated as urgent. We have successfully handled a great number of the utmost complex cases. Our attention to details and promptness will surprise you.
What to include in the request for a civil document
- Current full name of the applicant in English (and Ukrainian if known) and applicant's actual full name indicated in the birth/marriage/divorce record.
- Date and place of birth/marriage/divorce;
- Current residence address;
- Reason for request.
- If possessing any scanned copies of earlier issued Ukrainian certificates have them included in your request.
Birth Certificate
Marriage Certificate
Divorce certificate
Police Clearance
Requirements
The applicants requesting their birth/marriage/divorce civil records from Ukraine will have to obtain a
Power of Attorney from their local Notary
in order to authorize our agent. We will assemble the power of attorney text individually for each applicant and advise regarding all necessary steps. This
Power of Attorney
pattern is given for information purposes only, for you to see what its text might look like.
Rates
Standard service fee for any civil record retrieval is $235 (it includes the power of attorney translation fee).
To get an exact price quote for your project send us your detailed enquiry to our e-mail address
info@ukraine-translation.com
. We will respond shortly with a detailed estimate.
Processing
- 3-5 b/s days expedite processing (after the PoA is received from you).
- Facilitated application submission, no questionnaires translated to Ukrainian are required.
- Translation services available.
- Apostille and Consular Legalization services.
Birth Certificate
If the birth certificate is requested, in addition to general details we need to know the full names of parents, any name amendment should be supported by a copy of a legal document (for instance a change of a maiden name upon marriage to be supported by a scanned copy of the marriage certificate).
Birth certificate can only be requested on behalf of the person himself whose certificate is being requested or the person's parents/adopters.
Please note that USSR issued birth certificates are not accepted for Apostille or Consular Legalization in Ukraine and are subject to immediate exchange to a new standard Ukrainian version. It is also possible to affix an Apostille on the notarized copy of the USSR issued record. Contact us for details if you need your USSR record authenticated with Apostille.
Some countries like Switzerland, for the immigration purposes, may require civil records to be not older than 6 months ago.
An example of a
Birth certificate
request. E-mail us your enquiry to get a price quote and details.
Marriage certificate
The secondary certificate of marriage which has been terminated can not be issued. In this case a marriage record, verifiying that marriage and divorce were registered, is issued. This marriage record is also issued in case if requested by relatives of the spouses. If you request a marriage certificate (record) inform us the name of your spouse.

Example of a marriage certificate request.
Divorce certificate
If a divorce certificate is requested indicate the name of your ex-spouse.
Example of a
divorce certificate
request.
Death certificate
The secondary death certificates can only be issued to relatives of the deceased (spouses, brothers or sisters, grandparents, children).
Example of a
death certificate
request.
Police clearance certificate
Expedite service to obtain a police clearance certificate in Ukraine. All police certificates orders are treated as urgent.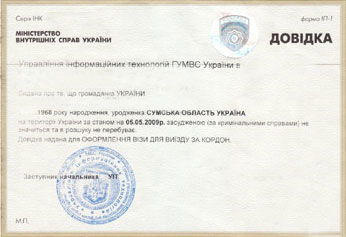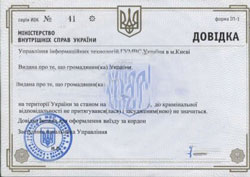 Those who resided in Ukraine for more than 6 months and applying for immigration abroad would be required to submit a Ukranian police certificate to prove that they have never been claimed, regarding criminal cases, in Ukraine.
Follow this link to order a
Police certificate from Ukraine
.
Genealogy research in Ukraine
Locating archival books in Ukraine containing information on your ancestors such as vital records (birth, marriage, death, divorce), census.
Set up your family tree.
Do the research for the history of your ancestors.
Please note that we can't guarantee successful results but we guarantee a highly professional research.
Researches are done by the specialists of State Archives along with the experienced managers of Ukraine-Translation.com.
For more information contact us at
info@ukraine-translation.com