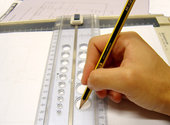 In any organization no matter how small or big, it is the technical documents, which play a big role in projecting what a company is really all about. Whether it is about translating
user guides
,
manuals
or any other kinds of
technical documents
, our Ukrainian technical translation services are meant to provide you with top-notch translation with 100% accuracy.
Correct translation of terminology
At Ukraine-Translation.com, we understand the profound importance of translating all the technical jargons and terms accurately. Even small errors can result in the users not using the software or product properly. This can lead to very negative consequences. Hence, as you can well imagine, proper and accurate Ukrainian technical translation is imperative for your user guides, manuals as well as other kinds of technical documents.
---
Rates for professional technical translation from/to Ukrainian:
$ 0.07 per word
.

Click here to complete our
Request Information form
.
Ukraine Translation
representative will contact you shortly. Additional contact options are available on our
Contact Us
page.
---
In-depth expertise
Our Ukrainian technical translation experts have many years of experience in this segment. Irrespective of the domain your company operates in, we have a corresponding expert who will provide thorough translation of your documents in the best manner possible, while adhering to all the industry jargons used. All our Ukrainian technical translation professionals have a thorough and in-depth understanding of the specific domain or industry vertical you operate in and can deliver timely, accurate and high quality translation to serve your purpose.
Ensuring quality assurance
At Ukraine-Translation.com, we leave no stone unturned to ensure our Ukrainian technical translation services are of the highest standards possible. Our quality assurance systems are very stringent so that there is zero room for error or cultural misinterpretations. All of the technical translation is analyzed accurately. A thorough plan is charted out to ensure effective translation. Depending on the industry vertical your company belongs to, the project will be assigned to a skilled Ukrainian technical translation expert specializing in this domain. A database is established comprising all the applicable terminologies as part of the translation process. During the entire process of the translation, quality control and assurance tools will be implemented to ensure accurate and high quality output of translation at every stage. Such a Ukrainian technical translation strategy also minimizes having to face last minute surprises.
Tools we use
We have a thorough and comprehensive repository of tools, which we use for our Ukrainian technical translation services. These tools comprise glossaries of terms used in the technical translation process as well as translation memory tools so that any previously translated phrases or words can be reused instead of reinventing the wheel. This saves considerable time, resulting in quick turnarounds. Access to such Ukrainian technical translation memory tools helps the client save cost as well because every repeated translation is counted only once. Our glossaries comprise an assortment of terms commonly associated with the technical translation segment. Having access to such glossaries entails that we churn out consistent Ukrainian technical translation material each time and use the most appropriate words as per the context.
We are available on a 24x7 basis all days of the week to answer any questions or queries you may have!